The deep sea, a source of inspiration and creation - RESSAC symposium, Brest March 30th 2023
Since 2021, Jozée Sarrazin has been working with the artists Teatr Piba (a theater company from Brittany) to offer « art & science » workshops on the theme of the deep sea to students from engineer schools and universities in the ISblue network. About twenty students from different specialties (sciences and arts) have already participated in the project which takes place every year on a Breton island (Ouessant in 2021 and 2023, Batz in 2022). During the 3-day workshop, students have the opportunity to discover Jozée Sarrazin's deep-sea research, to work on several artistic disciplines (writing, theater, music & sound...) and to share their knowledge and know-how. In parallel, they work in small groups on the realization of different scenic performances, related to the theme of the workshop. The projects are presented at the end of the weekend and in front of the public once back on land. These restitutions are an opportunity to look back on the creative process and assess the feelings of each participant.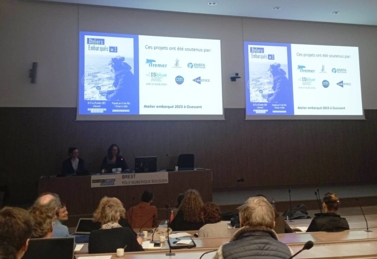 The 2021 workshop was about resilience, especially of deep sea ecosystems. During this workshop, a group of students proposed a sound creation associated with a choreography evoking the fragility of hydrothermal vents. All the sounds used were captured and processed on the Ouessant Island where the workshop took place. The listening was done with headphones during the restitution, for a better immersion in the abyss. Following the workshop, the students (Irène Mopin - ENSTA Bretagne, Angèle Nicolas - IUEM, Noémie Barcat - UBS) decided to continue the adventure together by bringing their sound creation to life in another way. They then joined forces with the Breton illustrator Eor Glas and the animator Manuel Creignou to produce the animated film R.E.S.I.L.I.E.N.C.E. This film retraces the still unknown process of resilience of hydrothermal springs following their destruction, while making the parallel with human resilience following a crisis. Its main objective is to raise awareness of the vulnerability of these ecosystems. It was recently presented at La Cité de la Mer (Cherbourg) to 2000 students of different levels of education.