Juliano M. Vilke, research fellow, University of Algarve (Portugal)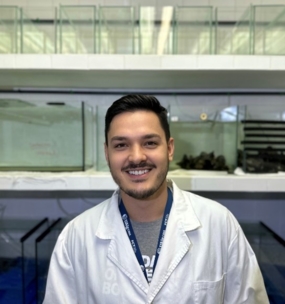 Juliano M. Vilke is an enthusiastic young marine scientist in southern Portugal. He obtained his M.Sc. in Biochemistry and Molecular Biology in 2023 from the Santa Catarina State University (UDESC), BR. He works with marine ecotoxicology, evaluating the effects posed by metals and emerging contaminants in marine organisms. Recently he joined the DEEP-REST team at the Centre for Marine and Environmental Research of the University of Algarve, contributing with new perspectives and a multidisciplinary vision to the group. 
He is also committed to projects involving ocean literacy and environmental education, emphasizing the pivotal role of dissemination of scientific knowledge and awareness, fundamental for the development of science that is inclusive and accessible to all.